Zac Efron's Official Site and Social Profiles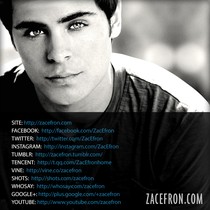 From Twitter to Google+ and more...check out our complete list of Zac Efron's official sites and social profiles and help us spread the word by sharing this post! The profiles listed are the ONLY accounts that Zac has online.
As Zac says in his video to fans below, any other public or private profiles you may find, are NOT him. Thank you again to all the fans around the world for your constant love and support! - Team ZE
Read more...
zacefron.com